Liberia / Sierra Leone
See just this Post & Comments / 0 Comments so far / Post a Comment / &nbsp&nbspHome

Up, Down, Thread Ahead: Marshall McLuhan - Tribal Spiral.

Monday, May 8, 2006

An interesting conversation:
Time: Claire Soares talks to Ellen Johnson-Sirleaf.

Friday, November 25, 2005
There is a sub-text here which has been bothering me. When I started to read the material, shortly before the election, I dismissed Weah entirely. That a black woman, Harvard educated yet, should be running in the election aroused the closet left-lib in me, rang all of those secret (for me at least) libidinous bells that trap our compassion into one ideology or another, and I took it for granted that she should win. Only for Gwynne Dyer, as already mentioned below, that I stepped back a bit and had another look.

Wednesday, November 23, 2005
Still no winner declared, Weah has it tied up in court.

Monday, November 14, 2005

Some pictures at: Yahoo News



There are ructions now between disappointed Weah supporters and the new government. Weah himself appears to be indulging in whiny threats that he will refuse to participate - maybe he is no more than a footballer and a child in some important ways. And this when the official observers of the election declared it pretty much ok. He might have been better to cut his losses and see what kind of deal can be made with the Iron Lady. I remember the first few weeks of Lula`s government in Brasil - he went busily about and brought many of those who had opposed him into the fold, with very public front page photographs as he did so. If Johnson-Sirleaf can do the same she will be wise, the moreso as I believe that Gwynne Dyer is correct and that it is Weah who holds the key to turning things around. And it looks to me like the alternative to turning things around is more horror for Liberia.

The Liberian Democratic Future (LDF)
World News Network - Liberia
Cocorioko - Liberia, Sierra Leone
Berkeley War Crimes Studies Center
United nations Special Court for Sierra Leone
President of the Republic of Sierra Leone - Ahmad Tejan Kabbah


I knew very little of Liberia and Sierra Leone before I began this post. That there is a map in the post at all tells you that I did not even know where they are. The connection began with the photograph of a young man apparently dancing while waving an automatic rifle which I saw on a newspaper site (right). My curiosity was aroused and here we are. I will also include some stories which I gleaned from reports of the Special Court for Sierra Leone which touched me deeply. Unfortunately, the transcripts are in Adobe, and many of them are scanned so it is next to impossible to extract pieces. So I took the paragraphs which follow from the Cocorioko site. I tried to cross check them in the transcripts - but really, Adobe makes text so inaccessible ... I gave up. As well, the court seems to have removed certain transcripts, possibly out of some delicacy, and the ones removed covered most of the witnesses reports I have used. I switched to the m$ desktop search and managed to cross reference the testemony of witness TF1-269.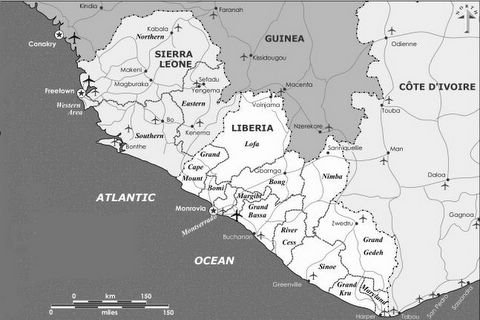 We live in a world, I certainly do, in which information is so routinely twisted, distorted and 'used', that even things which you know to be true become hypothetical and contingent. I suppose that is why I like to look at pictures. Pictures can be doctored too but they can't be fixing all of them can they? every single one? there are so many! These stories I found in the court reports had a genuine and authentic quality - judge for yourself:

Thursday, July 22, 2004 - "fifth"
The Witness wept while narrating how rebels in Kono killed her two sons, three brothers, mother, mother and father-in-laws and other members of her family. The witness who was born in Kwakor, Gbense Chiefdom in Kono said that during the war she was staying Fuendor but when they heard about the rebels she and her husband, mother, children together with some other people from Tombodu hid in the bush near Fuendor. In the bush she went on they ate only cassava and potatoe leaves' with no oil or rice to go with it. "By that time I was heavily pregnant," she said. The witness further went on to narrate that it was not too long after she delivered that together with her family they were captured by the rebels. "While I was with them they asked me to have sex with one of the abductee who was a Temne man. I refused because I was a suckling mother. They flogged the Temne man and me. They then forced me down and took my legs apart and I had sex with the man and my son was standing by crying and they flogged also," she said. The rebels told them to go into the town and stop punishing themselves in the bush and they then went to Fuendor. She went on, "in Fuendor we were told to undress and our children including my two boys aged three and the other under one year were taken away from us and placed under an orange tree," adding, "they undressed and too us into a room. I heard the children screaming and crying for some time after which there was silence. It was then that I knew the children have been killed. I whispered my fears to my mother and she fainted". She said that whilst they were in the room, the rebels took the people inside including her relatives one by one outside and there was gunshots and shouting from the people. "I was the last to come outside and I saw dead bodies all around including that of the Town Chief and one of my son," she wept. The witness went on further to explain that the Temne man whom she had sex was given a bag of human heads to carry while she too carried some other loads. "When we arrived at Tombodu the heads were thrown on the ground and I then saw the head of my other son on the ground. Later the heads were thrown into the river on the orders of their ?bossman'. The head of the Temne man was slit open and the body dragged into the river," she said. The woman also said said that one Tamba Joe who brought the rebels to their town ordered that she should be killed but was saved by one Kissi man and given in marriage to an old man. She said that her way of escape came when she went to fetch water and hide in the bush for about three days without eating or drinking anything. "It was when my feet started swelling that I decided to come out of hiding. When I arrived to my aunt's place they were afraid of me thinking I was a ghost," she said. She was then taken to hospital for treatment.

Tuesday, July 27, 2004 - TF-064
The Witness cried for over 5 minutes uninterrupted and the Presiding Judge had to tell her to have comfort and continue her testimony when the woman broke down after telling the court about how the rebels raped her, though pregnant, amputated both her hands; removed her sister's underwear and plunged a knife into her private parts; rounded up kids and assembled them along with adults under a tree. They included her own sons, who were 1 and 3 years old. The rebels then separated the kids from the adults and murdered all but one of the children, with the surviving child being asked to carry a blood-dripping bag as they left the village with their captives. The woman said she was asked at gunpoint to laugh when she saw the dead bodies of the children littering the floor. She was then shown the contents of the bloody bag - the heads of all the kids, including her sons', who had been killed.

Monday, June 6, 2005 - TF2-078
The witness has told the war crimes tribunal in Freetown that the Civil Defence Force were ordered to burn down every house occupied by members of the AFRC junta and to seize and use any property belonging the RUF rebels or the AFRC.

Monday, June 6, 2005 - TF2-079
In the joint trial of the three CDF indictees- Sam Hinga Norman, Alie Kondowa and Moinina Fofana, the witness has disclosed plans for Operation Black December'. The witness said that the National Co-ordinator,Chief Sam Hinga Norman, called them to a meeting where he informed them of the operation which he said was going to take place thus: all supply route to the RUF would be cut off; felling of trees on major roads and feeder roads - for which purpose they were given power saw to cut down the trees. Also, bridges were to be dismantled. The witness went on, "the operation was to be carried out simultaneously as all RUF bases were to be attacked. Civilians and Police collaborators are to be treated as common enemies; all houses occupied by the AFRC were to be burnt and properties including vehicles belonging to the RUF or AFRC and collaborators should be owned and used by the Kamajors." The witness further disclosed that another meeting was also held at Walihun II where most members were present including the War Council authorities- Orenco, Nallo and himself. At that meeting the witness said, Hinga Norman told them that gravel, which the AFRC Junta had dug, should be washed, sold and the proceeds be brought to him. The 43-year-old man who is also a member of the CDF told the Court that he first saw the second and third accused in November when he went to Base Zero at Talia to request for arms and ammunition as their supply had drastically reduced. "When we arrived, we went to the house where Hinga Norman was residing but we were told he had gone to Liberia. We were introduced to the Director of War- Moinina Fofana who received us with open arms after we had told him about our purpose. The next morning, he took us to the house of the High Priest- Alie Kondowa. We stayed at Base Zero for three days during which Hinga Norman came and we handed over the Situation Report to him. He advised that some men return back with the arms in and ammunition that was given to us." He said that the lives of the civilians were also danger as anyone caught travelling between Tongo and the Kamajor base was killed. "A lad travelling from Tongo to Panguma on foot was caught and butchered by the Kamajors. Around the vicinity of Tongo, palm wine tappers were also killed by Kamajors," he narrated.

Tuesday, June 14, 2005 - TF1-334
Continuing his evidence at the Special Court the witness has disclosed that Brig. Gullit and other junta soldiers killed 14 ECOMOG Nigerian soldiers at state House. In his evidence, the witness said after they had captured state House, some ECOMOG soldiers were caught and were brought before Gullit who asked them who was their commander, what was their military strength and where they were having their supply of arms. The soldiers, the witness said, refused to give correct answers so this annoyed Gullit, who took out his pistol and shot two of them and ordered Tito and his men to execute the remaining twelve. The witness further stated the wife of one member of the junta was also shot by Gullit at State House, adding that the environment of State House was all littered with corpses. He also told the Court that when they were at State House, a civilian boy came by and informed them that the ECOMOG troops have captured family members of SLA's at Wilberforce Barracks and if they attempted to attack the Barracks they will kill all of the family members that they have captured. So Gullit advised them not to attack Wilberforce. "We later returned to State House where an announcement was made by 55 speaking as the Chief of Staff on the radio saying that they have ousted the government of Tejan Kabbah and that the army is presently in control of the Country." The witness also said "later on we heard another announcement on Radio France International by mosquito that the troops commanded by Gullit have captured Freetown and that even State House is under their control." The witness maintained that on the 6th January 1999 there was massive looting everywhere even the office of the president at State House was vandalised. The junta forces also looted other offices. There was abduction of women. On January 6th also, the commanders were in various vehicles while the civilians were singing that they want peace, and the soldiers are their brothers. The witness also told the court that the strength of the forces that attacked State House was about eighty men. The witness said after they attacked CID and set the building on fire they then moved to Pademba Road Prison "we met little resistance from the loyal troops stationed there so we were able to open the prison. There were soldiers, Politicians and even prominent lawyers there. We told them to report to State House where they would receive orders from us later, which they did." The force then moved towards New England to capture the Radio Station there. The junta troop later headed for Brookfields where they met little resistance. The junta also captured Hill Cut. " We then moved to Tengbeh Town together with Supervisor A, Tito, and Pikin. After we had captured Tengbeh Town we moved to the National Stadium, we discovered that there were some soldiers there and so we forced our way and entered and called on the soldiers to join us which they did and were later asked to report to State House." He narrated.

Saturday, June 25, 2005 - TF1-004
Giving evidence before the Trial Chamber of the Special Court, the witness has told the Court that 20 people were buried in a grave in Tikonko around the market area. Led in evidence by the Prosecution team, the witness maintained that after he heard an announcement on the Radio that the AFRC junta had overthrown the Government of Ahmed Tejan Kabbah, some soldiers came to the village on the 25th of June 1997. The witness said that when they returned from their hiding places as he was searching for his wife and children, he saw a man and his child lying down dead after been shot on the back. "I went to on another house and met two dead women- one was lying with her head between the legs of the other. As I was going towards the junction, I saw another corpse with his feet chopped off. About hundred yards from my house, I also saw one man that had been shot by the soldiers lying in a gutter dead," the male witness narrated. He went on to explain that he saw a lot of corpses lying all about the place. At night he went on, as he was afraid to be in the village alone, so he went into the bush to spend the night. Early the next day, his son helped him to find his wife. Later in the day he recounted, the Paramount Chief and the Chiefdom Speaker gave orders that the corpses need to be buried as the stench was disturbing the town. "We dug a hole and started collecting the corpses. At first we collected eleven and later picked up nine more bodies and buried them in one mass grave around the market area. During cross-examination by Lawyer A. Manley-Spaine, the witness was asked whether he knew any of the soldiers that were involved in the killing of civilians. The witness said he could remember three of them. "One was called Brima Moisia, Junior Mesalie and one who was nick-named ?Babou Paddy' who was staying with me when he was first deployed in Tikonko during the war." The witness was also questioned about the way he got the information about the overthrow of the Government by the juntas. To this, the witness said he got it through the radio. Manley-Spaine then challenged the witness and read from the statement that the witness had earlier made to the Special Court investigators. In this statement, TF1-004 had said that they were sitting under a tree together with one Pastor Khobe and Alie Koroma when Amadu came and informed them that the soldiers are coming. The statement went on to state that "the soldiers came and gave them the information that they are now in control of the Government." "The witness then told them that he was with them," the statement read.

Friday, July 1, 2005 - TF1-062
Led in evidence by the Prosecution team witness told the Special Court Monday 27th June that the AFRC/RUF members gave orders that the civilians should mine in Tongo. The witness who was testifying in Temne, said that after the coup in 1997 as they were in Tongo, Sam Bockarie (Mosquito) went there and called a meeting and instructed the commanders of various locations that civilians should mine at Cyborg pit - a land around the playing field. Before Mosquito could leave Tongo the witness continued, he chose Jamayo Katy to be the next in command but he was later killed on the third day. There was a government workday wherein civilians were asked to mine for the government. They were not provided with any equipment or foodstuff and any diamond found was to be submitted to the commanders of the various locations who would in turn hand them over to Mosquito. The witness maintained that the pit was so large that it could accommodate well over two thousand men in it. The witness who said he was a Diamond miner in Tongo had about six boys working for him. He supplied them with equipment; foodstuff and even medical facilities. " When ever the commanders declare a government work day everyone was tasked to work for them. As I also have my own boys that were working for me I used to send them to work on my behalf because if you refuse to work for them they will beat you up. They were not supplied with any equipment not even food." The Diamond Miner further stated that people were even killed for gravel. "On one occasion, a civilian child was coming out of the Cyborg pit with a bag of gravel, when he was ordered by a soldier to give him the bag, but the child refused - so he was shot. On another occasion, a soldier took his gravel to be washed and went away when he returned; the bag was nowhere to be found so he said he was going to set an example on the civilians. He immediately stated shooting and one civilian was shot dead." The witness continued, "People were always killed, sometimes inside the pit and sometimes around the pit. The witness also stressed that when the civilians were washing the gravel, the guards who were armed with Rocket Propelled Grenades, Light Machine Guns and other guns stood there and watched them. "Some of them were small boys between the ages of 12 years. One small boy named junior who was about 12 years even went to my house ...

Tuesday, July 19, 2005 - TF1-269
The witness disclosed that five rebels raped and then stabbed her on the back. Revealing her ordeal the witness said that some rebels attacked her village Rosus, and as they were trying to escape, she was captured. The witness noted that at first, three of the rebels raped her "one was holding a gun and two others were with knives. After they had finished raping me, one of them pushed me to the ground, grabbed a knife and stabbed me on the back of my neck. The two others argued that I should not be killed because they have raped me ." She said she was then asked to take them where the other civilians were hiding. When they got to the area, she said, they met rebels there also. "One of the rebels called me and took me to the bush, took out his penis and forced it in my mouth so that I could suck it. I had wanted to refuse but I was afraid he might kill me. He wanted to rape me again but I refused so he took me to one of his colleague who used a stick to beat my left foot. He also took me into the bush where he raped me; altogether it was five of them who raped me," she said. She narrated how she was later released and told to go and find her parents. The witness said she headed for Port Loko to search for them, and found them in a village around the Batkanu area. He recalled that after the rebels had left Rosus they returned and found out that most of the houses had been burnt down including her own.

Wednesday, July 27, 2005 - TF1-157
The witness has explained that Adama Cuthand ordered the amputation of civilians in Freetown. The witness maintained that when they entered Freetown on the January 6th, 1999, people were killed and houses and vehicles burnt down. It was at this point the witness said that Adama gave orders that civilians should be amputated, which then led to the rebels engaging in massive amputation of civilians. The witness who was testifying in Mandingo told the Court that when the rebels entered Freetown, the civilians were tormented as they were forced to sing for the troops while others were engaged in the burning of houses. Later he went on to narrate, some civilians were ordered to put out the fires. " The troops then went in search of Police Officers. The rebels disguised as civilians and went in search of Police Officers who when found, were killed together with their families and their houses burnt down. It was during this period that the Eastern Police Station was burnt down. A Government official was also killed at Kissy," TF1-157 narrated. The 20-year-old witness said that he was captured by the rebels at his village in Bonoya in the Bombali District. Some of the rebels he said were in combat fatigue and others in civilian attire. " During this attack, six people were killed and four houses burnt down. The six killed included my elder brother; my uncle and his two children- Mamie Adama and Momodu who were thrown into a fire and those that were not killed were seriously injured. I together with some other children were forced to carry loads for them." He narrated that they went through many villages, which he could not remember; adding that the troops attacked Rosus where a Muslim man was stripped naked and killed by Musa with orders from one Captain Junior. He explained further, " we were attacked by the ECOMOG jet which forced us to leave Rosus and headed for Red Lion where we stayed for some time. While we were at Red Lion, we usually cross a river to search for food and on one particular day, a man was left behind and upon our return the next day, his body was seen at the junction having been mutilated by the Kamajors." The troops he went further to narrate "then decided to head for Freetown and went through Lunsar where houses were also burnt and civilians killed. Mamamah, Waterloo and Benguema where attacked and Saj Musa died at Benguema," he narrated.

Thursday, August 8, 2005 - TF1-326
The witness during her examination-in-chief has disclosed that after the second attack by the rebels in Fadugu, a total of 150 houses were burnt down. The witness told the Court that in May 1998, they were attacked by rebels who forced them to flee into the bush and that they were later advised by ECOMOG troops to go back to the village, which they did. On their return, the witness said, they were attacked and as they were trying to escape, she was shot on the left foot. This she said made her return to the village with her two children and went in one house where she met two boys hiding under a bed. It was later she said she saw a rebel who demanded the keys of a drawer but she told them that she was not the owner of the house and that she does not have the keys to the drawer. The rebel the witness narrated, forcefully opened the drawer and took some money, jewellery and clothing. The 45-year -old woman who was giving her evidence in Krio said the rebels took her gold earrings and chain and her 8year old son was asked to join them but she pleaded to them because her foot had been shot. This made them to release him. "It was not too long when I saw fire. My son then went out to see what was set ablaze, and he returned to tell me that a car had been set on fire. Then I asked him to take the child so that they would hide in the toilet. I then managed to crawl to the toilet where we stayed as the rebels came around burning houses. The owner of the house came out crying that they had burnt his house and for this he was given a severe beating by the rebels." Continuing, the witness said, " I came out of the toilet and it was not long after that my husband came and took me into a house. On our way, we saw the corpses of Kaloko who was a teacher, his brother Johnny and Mamie Satta all in the street. After three days my husband took me to the Makeni Government Hospital, because my foot had gone bad. Dr. Baker amputated it." TF1-326 narrated that after her operation they returned to Fadugu in August and at the end of the month there was another attack where the Paramount Chief, Alimamy Fanneh II was killed after he had been shot. A mattress was set on fire and placed on his corpse. A woman together with her child who also came from Kabala to pass the night at Fadugu were burnt to death. She stated that after the rebels had gone they went around the village and they counted 150 houses, which were burnt down.


I am including complete articles in this post as well as links - it is very irritating to find that a link no longer works because the posting organization has tired of it.

Jun 2: Economist - Still in the shadow of the warlords
Oct 31: Gwynne Dyer - Good Luck, King George
Nov 11: Economist - A milestone, perhaps, for Liberia and Africa

Economist - Still in the shadow of the warlords
Even in exile, ex-President Charles Taylor remains a menace
Is he waving hello or goodbye?

In October, a country that has become a byword for failed states in Africa is holding its first presidential poll since 1997. The good news is that Liberia's voter registration, co-ordinated and paid for by the UN and other international bodies, has gone fairly well. At the end of a month-long process, UN officials say, some 1.2m people had registered, roughly half of Liberia's adult population. The bad news, however, is that the man responsible for much of the past mayhem, Charles Taylor, is back behind the scenes, seeking to manipulate the election from exile.

The notoriously violent warlord won the last presidential election on a pledge that if he got in, he would kill fewer Liberians than he usually did. He lied. Wanted by an international war-crimes tribunal in neighbouring Sierra Leone for his role in that country's brutal civil war, and facing an advancing rebel army in Liberia itself, he fled to Nigeria in 2003. The UN has been keeping the peace ever since.

This time there will be no shortage of candidates. A field of more than 50 includes another former warlord, a retired football star, and a clutch of evangelical preachers claiming to have been chosen by God. The cluttered field has become the butt of many jokes; a current hit song is called "I want to be president too".

Perhaps for the first time in their history, Liberians will have a fair choice. The country was founded in 1847 by freed slaves from America, who colonised the hinterland and formed an impenetrable elite that ruled unchallenged until 1980. Then came an army coup, and more than two decades of dictatorship and rebellion, followed by Mr Taylor's bloody rule.

So far only one candidate seems to have much popular support: George Weah, a former AC Milan football star, who has wealth, celebrity and good intentions, but no experience in government. Other serious candidates, such as Ellen Johnson-Sirleaf, have posh degrees and international credentials but little of Mr Weah's charisma.

A candidate to watch is Roland Massaquoi, a former farm minister who is seeking the nomination of the National Patriotic Party. This, however, is Mr Taylor's old party, and party leaders are said to have held a recent conference call with their old boss, who told them to support Mr Massaquoi. Such interference in Liberian politics flouts the agreement under which Mr Taylor was granted exile in Nigeria but is probably not an isolated example. A recent report by the Coalition for International Justice, a lobby, says that Mr Taylor is using his ill-gotten fortune to finance half of Liberia's parties. The report also accuses him of plotting to kill a long-time rival, the president of neighbouring Guinea, and says Mr Taylor is now recruiting a new rebel army from among Liberia's many unemployed gunmen.

Mr Taylor presumably hopes to install a sympathetic government—one way or another—and then to return to Liberia, as he has always promised to do. Nigeria faces American pressure to send him to Sierra Leone to stand trial at the war-crimes tribunal there, but it refuses to hand him over in the absence—it says—of proof. Nervous Liberians fear that the baleful influence of Mr Taylor will still threaten a fair election, whether or not he goes to trial in Sierra Leone or lurks behind in Nigeria.

Gwynne Dyer - Good Luck, King George

Liberia is a country where 85 percent of the population is unemployed, and where there are virtually no functioning schools or hospitals any longer. Almost a tenth of the population died in the 14-year civil war that ended only two years ago, most of them not killed in combat but chopped to death by drugged-up child soldiers. It may be the only place in the world where the young have a lower literacy rate than the old. For the past two years it has been a United Nations protectorate, occupied by 15,000 UN soldiers. And now they are holding an election for the presidency.

They have already held a first round of voting that eliminated 20 of the 22 candidates, and on 8 November they get to choose between the two leaders. One is Ellen Johnson-Sirleaf, a Harvard-educated economist who worked for the World Bank and who has the contacts and the skills to get the country the foreign help it desperately needs. If elected, she will be Africa's first woman president. The other is George Weah, a retired Liberian-born football (soccer) hero who never went to school, has never held a normal job, and now lives in Fort Lauderdale, Florida.


So which candidate stands a better chance of saving Liberia from another round of slaughter, and maybe even getting the West African country back on its feet? George Weah, obviously, though it must be added that even his chances of succeeding are not very good.

"I don't need political experience to give you schools," Weah tell the voters. "I don't need political experience to give you lights, and water, or to see that the roads are bad," and a lot of them listen because his origins were as tough as theirs.


George Weah was born in a Monrovia slum, one of 13 children who were abandoned by their parents and raised by their grandparents in a hut on reclaimed swampland. It was his extraordinary skill at football that took him first to Cameroon, then to Europe, and eventually, in 1996, to global recognition as the international footballer of the year.

He is the idol of poor young men in Liberia, most of whom are addicted to football -- and there are a lot of young men in Liberia: almost half its potential voters are under 30, and a quarter are actually under 23. That is why "King George", as they call him, will probably win the run-off election on 8 November and become president of Liberia, but is this really a happy ending? What are the odds that this 39-year-old retired athlete with no formal education and no experience of either business or politics can run the country successfully, or even hold it together?

Better than Johnson-Sirleaf's, at least. She is a descendant of the freed American slaves who founded Liberia in 1847, and though she bears no personal blame for their actions it is a crippling handicap politically. The American ex-slaves who were resettled on the West African coast proceeded to re-created the slavery society of the American south in an African context, with themselves on top.


Local Africans were conscripted into a system of forced labour, while the vote was reserved for the American newcomers (who have never numbered more than five percent of Liberia's population.) And despite various modifications, that two-caste system essentially stayed in place until 25 years ago.

The quarter-century of turmoil and civil war that has devastated Liberia began when Sergeant Samuel Doe, an illiterate soldier, led a revolt that overthrew Americo-Liberian rule in 1980. Battles between various military groups and warlords became chronic, the use of child soldiers in those struggles became normal, and practically all of Liberia's economy and infrastructure were destroyed. Maybe the killing is over now, but it depends a good deal on whether the new president can convince people that Liberia has really turned the corner.

That is where Johnson-Sirleaf, for all her qualities, cannot deliver the goods. As a 66-year-old member of the old Americo-Liberian elite, she simply lacks the street credibility that might persuade the tens of thousands of recently demobilised boy soldiers with no immediate prospect of improvement in their circumstances that there is somebody in power who understands their anger and their impatience.


George Weah is undoubtedly less well equipped than Ellen Johnson-Sirleaf to run an efficient administration and rebuild the economy, but the brutal fact is that it will be years before Liberia can provide either jobs or education for all those angry young men who fought in Liberia's wars no matter who is president. If they lose patience, the country will tumble back into the horrors that it has just recently left behind. So the new president's main task will be to persuade them to be patient, and Weah has at least a chance of doing that.


He also stands a good chance of being killed. He left Liberia in fear of his life and settled his family in Florida years ago, after the dictator of the time, Charles Taylor, had his house burned for daring to suggest that Liberia needed UN intervention. He has come back to face a situation that is only marginally less dangerous, and he will need a lot of luck to pull Liberia through -- or even to come through the experience alive.

Economist - A milestone, perhaps, for Liberia and Africa

Ellen Johnson-Sirleaf is claiming victory in Liberia's presidential election and looks set to become the first elected female leader in Africa. Her opponent in the run-off, George Weah, has cried foul but is unlikely to succeed in getting the result overturned. The new leader will have to reverse almost three decades of decline, mismanagement and civil war

FOR the second time in a month, Liberians have gone to the polls to decide who their 23rd president will be. In October's first round, voters eliminated all but two of the 22 contestants; this week they made their final choice. On Friday November 11th, with 91% of the votes counted, Ellen Johnson-Sirleaf held a seemingly unassailable lead, with 59% compared with 41% for her rival, George Weah. After declaring victory, Mrs Johnson-Sirleaf said she felt "humbled" on being chosen to "lead the effort of reconciliation and development". She told Reuters news agency she hoped her win—the first presidential-election victory for a woman in Africa—would raise the profile of women across the continent. And she invited Mr Weah to join her government, after "getting over his disappointment".

But the loser is not merely disappointed. He is angry, alleging fraud and insisting that the Supreme Court stop the counting of votes and that Mrs Johnson-Sirleaf be prevented from taking office until his complaint has been investigated. On Friday afternoon, hundreds of his supporters demonstrated against the result in Monrovia, the capital, throwing stones at police and chanting "No Weah, no peace". But when Mr Weah addressed the crowd, he urged against violence. "You chose me because I am a peace ambassador," he said. "You have a case. While we are looking into the case we want you to remain calm. The streets of Monrovia do not belong to demonstrators."

With those scrutinising the election saying they found no widespread evidence of vote-rigging, there would seem to be little chance of the result being reversed. The head of the observer mission from a group of West African states, E.M. Debrah, said the signs were that the election had been generally free, fair and transparent. Some irregularities were reported but diplomats said they were not big enough to affect the final outcome. The voting process was largely peaceful, testimony to Liberians' evident desire finally to put decades of political violence behind them. This is the country's first presidential election after a decade and a half of civil war.

The two candidates in the run-off could not have been more different. Mr Weah, who got most votes in the first round, is a former footballer, and the most famous person in Liberia. He was born in a poor suburb of Monrovia, but became a star at European clubs such as Chelsea and AC Milan. His supporters campaigned for him on the slogan: "He know book, he know no book, I'll vote for him." Their complaint was that it was the educated who had led Liberia into its current mess; their hope was that Mr Weah, with no formal education but untainted by violence or corruption, would lead them out of it.

By contrast, the older Mrs Johnson-Sirleaf—known among Liberians as the "Iron Lady"—is a seasoned politician, a former finance minister who has worked for the World Bank and the United Nations. She had the vote of those who want Liberia's international credibility restored; her backers say she will bring much-needed aid and investment.

Assuming that Mrs Johnson-Sirleaf is confirmed as president, she will have to reverse almost three decades of decline, mismanagement and civil war, which has left Liberians poorer than almost anyone else on the planet. Public utilities ceased to function in the 1990s; most people have no running water, electricity, sanitation, decent education or health care. The government is running on a budget of just $80m.

Corruption is on the lips of everyone. Any new government will need to tackle graft and cronyism. Fortunately, it will find itself bound by the Governance and Economic Management Assistance Programme (Gemap), which was endorsed by the outgoing transitional government. The aim is to make public finance more open; international experts are to monitor the government's fiscal performance for the next three years.

Gemap's signing could have touched off debates about national sovereignty, a sensitive issue in Liberia. But in such dire circumstances, neither ordinary Liberians nor international donors object to outside management. Max van den Berg, head of the European Union's election observers, who is also a vice-president of the European Parliament's development committee, says Gemap is absolutely necessary to attract the investment that Liberia needs. But, he says, "you will need people who are committed to carry it out."

Such people may be more likely to be found in Mrs Johnson-Sirleaf's camp than in Mr Weah's. The former footballer has let a lot of dodgy figures, including cronies of a dreadful former president, Charles Taylor, now in exile in Nigeria, into his court. This made many Liberians doubt whether a government under his command would stay sufficiently clean.

What happens in Liberia affects its neighbours. Since civil war started in 1989, it has exported mayhem and refugees, with devastating results in Sierra Leone, Guinea's Forest province and Côte d'Ivoire, which is now cut in half by civil strife. Liberia has also been a haven for all manner of hustlers, gangsters and terrorists.

Alan Doss, the United Nations' special envoy to Liberia, is worried. "The Côte d'Ivoire conflict spilling over means we will have to deal, yet again, with the problems of refugees and the recruitment of fighters for that conflict," he says. Added to that, Guinea is imploding and Sierra Leone is becoming unstable again as well. Perhaps, if it can resolve the squabble over its election result peacefully and it gets a new president to set new standards of accountability, Liberia may start exporting something good.



Unity Party (UP)


Congress for Democratic Change (CDC)

Down.